9/16/08
scream
HIIIIIIIIIIII! Guess-e what-e! i found another one of my kind.... an anime Nerd
stare
(echos) NERD
NERD
NERD
neutral
yeah.... shes a nerd like me, me, me
emo
yeh its kinda funny, although we are not a like in gym. We got paired up with 4 other people, me, lovina, lauren..... the anime NERD, and belll... something.
sweatdrop
but we had to run 4 laps...(=s a mile) but she insisted on walking, by the way gym class is only 45 min long, she me and lovina left them in the dust. But we then figured out we had to wait for them! right... at the moment we passed the 1st lap....
stressed
so we waited... and i had to run 250 meters to get them..... and then run another 250 meters again..... for the next 2 laps
scream
LOSERS! count how many laps we did thats only 3 3/4, our gym teachure let us of because we worked sooooo hard.
biggrin
scream
WOOOOOOHHHOOOOOOOO!
This pic doesnt have to do with the topic but its funny!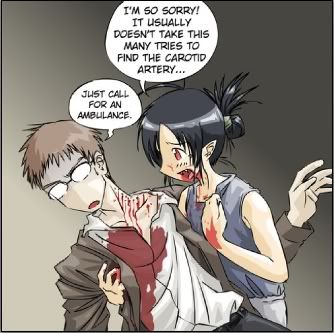 "It sucks to be him!"