-=-Special-=-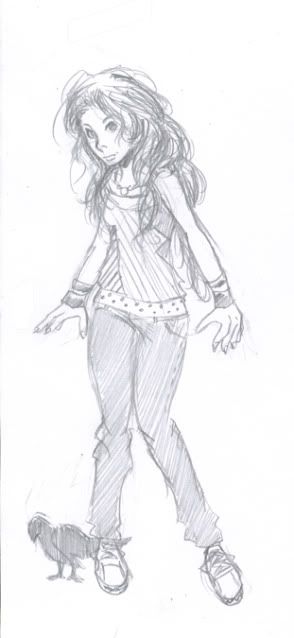 Name: Circe
Nickname (if any): C.C.
Kind of being (human, extraterrestrial, fairy-tale creature, etc.): Human
Age: 18
Sex: F
Appearance:
• Caucasian
• 5'7"
• 135 lbs.
• Waist length mahogany colored curls (natural)
• Hazel green eyes
• Slender
**Has dimples
Occupation (if applicable): Cashier at local gothic clothing/accessory store
Family members: Roger Elwood (Dad)
Pets: Ebony (Crow)
Best friend(s): Tabitha, Yin, Yang, Clarissa, Austin
Describe his/her room: Located on the fifth story of Roger's apartment, facing the west side. A pine black desk always cluttered in books (mostly composition books that hold poems/songs) sits in front of the only window. Curtains are purple satin. Ebony's bird cage sits on top of the dresser on the right side of the desk. To the left side in the corner sit's an old bookshelf on a small purple rug. The bed is on the opposite side of the room. The sheets are purple (like mostly everything else) and pillows with rock stars are on them. A sticker coated laptop is usually on the larger carpet in the center of the room next to an MP3. A trash bin and a mini black fridge are beside the bed. The walk in closet is close to the bed. Photographs of solo shots and friends are pinned to the wall against the bed. (I think that's it..)
Way of speaking: Speaks what's on the mind, whether or not it's rude or biased. Doesn't care what people think.
Physical characteristics (posture, gestures, attitude):
• Good on feet
• Balanced (due to a tree climbing childhood)
• Athletic
• Stubborn
• Very serious (depending on the situation)
• NO TOLERANCE for disrespect.
• Violent at times (not all the time)
• Usually calm
• Cooperative
• Gets along well with others (especially guys)
Items in his/her pocket(s), backpack, and/or purse: (Note: Hates lots of baggage) Carries: money, library card, hair ties, eyeliner, mascara, dark lipstick, pocket notebook, pen--in coat and pants pockets
Hobbies: Writing songs and poetry
Favorite sports: Volleyball and swimming
Talents, abilities, and/or powers: Can speak the language of Fey, is an expert at solving riddles, can hold breath for long periods of time (thanks to swim meets), is creative, works best under pressure
Relationships (how he/she is with other people): Goes by the simple phrase- "Treat people the way you want to be treated." You start problems and you get your a** beat. Is normally nice and likes to have fun. Hangs out with best friends who are under the influence of drugs but does not take part in it nor supports it. Will do anything for friends. Trust worthy and loyal and also never makes impossible promises
Fears: Secretly afraid of death
Faults:
• Stubborn
• Short-tempered
• Very conservative
• Trust issues
• Atheist (some people think it's a bad thing)
Good points:
• Can see and understand from both the female and male perspective
• Quick learner
• Great at multi-tasking
• Pretty smart
What he/she wants more than anything else: Wants to know the reason why weird things only seem to happen around her.
Visual Aids:
Hair Style-
[x]
Hair Color-
[x]
Eye Color-
[x]
Outfit:
[x]
Shoes-
[x]
Refs:
[x]