SOME of my random profiles:
Your Username: Erus Fatum
Whats you character's name: My name...is Ace Darkside
Female or male: I am Male.
Appearacne:
How old: I am 17
Hobbies: Martial Arts Training
About: My story...? I'll tell you, but don't expect it all to be true. I'm not fond of my past, and I don't want to scare you. After I was born, my father tried to kill me multiple times. Always, he was thwarted by my mother. So, finally, he killed her. I was seven. Afterwards, I devoted my life to Martial Arts, and learning how to use multiple weapons. I have no tolerance for pity, or arrogance.
Room #?: 5
Other: I have a pet cat, Viktor, that follows me around.
Crush: None...yet...
Username: Erus Fatum
Character Name: Avalon Nightfall
Gender: male
Race: Half-elf
Age: 17
Classes: World Literature, Martial and Fighting Arts, Science, Mathematics, Magical Arts
Abilities: Since birth, Avalon has had the ability to manipulate time, thus giving him the title "Timelord."
Bio: Avalon's parents died when he was only 7 years old, right in front of him. He doesn't talk about it much, but remembers it vividly. Since, Avalon has trained himself to use almost every weapon known to man.
Appearance: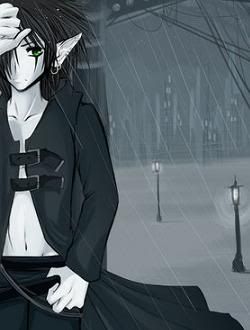 Other: Avalon has a pet cat, Viktor, that follows him around.
Room: Floor Three, Room Seven
username: Erus Fatum
name: Eric Riven
age: 17
race: Saerven
power: Saerven Angel/Daemon
Bio: Unable to remember much about himself except his name, Eric has been an orphan almost since birth. A calm, cold person that beleives that love has no place in the world.
dorm:7
look:
likes: his swords
dislikes: arrogant people
other: He has a pet Panther named Wren.
Username: Erus Fatum
Name: Oktober Dracon
Age: 15
Race: Vampire
Preferred Pic:
Short Bio: Oktober is an extremely good guitarist, and can also play the piano and the violin. He hasn't smiled in five years.
Likes: Blood, Day lilies
Dislikes: Arrogant people, happiness.
Gaia Name: Erus Fatum
Character's name:Miumi
Character's age:17
True Age:about 123
Race:neko
Any special qualities: some manipulation of water
Skills: speed and strength, because of extensive training.
Bio: Miumi is a loner, always has been. He prefers the village at night, rather than day. Unfortunately for him, the village girls love his ears. He began training as soon as he escaped the zoo he was put in at birth, and for a love that he knows can never be.
Reason for being at the village:Miumi came to the village in search of many things: peace, silence, a place to be besides the cage he spent the first three years of his life, to name a few.
Other: Not someone that's easy to get used to. He thinks in more abstract ways than most. He doesn't open up to many, but to those he does open up to, he's a loyal friend.
Appearance: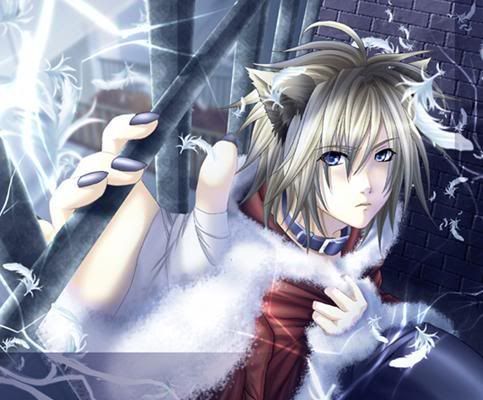 Username: Erus Fatum
Character Name: Constantine Reaper
Age: 15
A good story: Both of Constantine's parents died by his hands. Or...teeth...in this case.
What You look like in human:

In supernatural form:
http://i143.photobucket.com/albums/r130/sethentiger/Band%20Members/8.gif
What are you: Half Vampire Half Human
Username: Erus Fatum
Name: Fumio Hajime
Age: 15
Grade: 10th
Gender: Male
Race: Vampire
Appearance: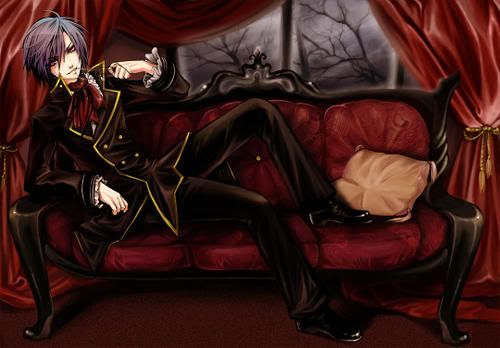 Personality: Quiet, withdrawn, slightly shy.
Likes: Books, a feeling of content, blood, Alternative Rock music, blackberries.
Dislikes: Screaming, arrogance, rap, idiocy, superiority, bananas.