Because dressing up with different themes every day was so fun in October, we decided to do it for December too! Themes will be planned out a week or so in advance, to give busy peeps time to do them in their free time.
Participants: Katolincat, Akala Weylyn, AngelofFire34, OmegaRin
12/1: Holly Hairpiece Day
12/2: All Commons Day
If you can buy it in a gold shop, you can wear it!
12/3: Snow Queen Day
12/4: Penny Pinchers
Make an avatar outfit that is worth less than 20k
Total Value: 18.6k | Total Value: 18,436g | Total Value: 18,635g
12/5: A-caroling we will go! (Caroling Sheet Music)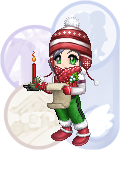 12/6: Fugly Day
Make the ugliest avatar ever
12/7: Spirited 2k7 Scarf Day
12/8: Scrooge Christmas
Make an avatar outfit that is worth less than 5k
Total Value: 4875g | Total Value: 2960g | Total Value: 4813g
12/9: Christmas Head-Tree Day
12/10: Cap a la Gingerbread Day
12/11: Tinsel and Lights
Dress in silver, white, and gold.
12/12: 'I'm a Special Little Snowflake!'
Dress as a Mary Sue OR with a snowflake theme
12/13: Cookie Trauma! (Gingerbread Cookie Man)
12/14: Oh, the Weather Outside is Frightful
Dress for the cold!
12/15: MC Day! Or: Crazy Colors Day! (be as colorful as possible!)
12/16: Reindeer Day
Dress in brown, gold, and red
12/17: Santa Day
Dress in red, black, and white
12/18: Candy Striping! (Caroling items day!) 12/19: Christmas Tree Day
Dress in green, gold, and red
12/20: BAH HUMBUG!
Dress like a greedy rich miser (wear expensive stuff)
12/21:
Saving Santa (Event Item Day!)
12/22: Christmas Angel Day12/23: 12/24: 12/25: Christmas Day! 12/2612/2712/2812/2912/3012/31Bonus Challenge Theme Week
Elemental Masters!
-either make an avatar representing each element, or a single 'character' wearing/wielding different elements-
Fire, Earth, Water, Air/Wind, Light, Shadow, Lightning/Energy