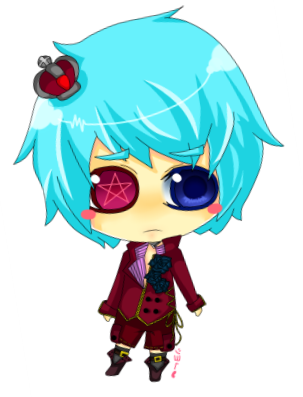 Name //
Tamaki 玉木
Age //
18
Gender //
Male
Hair //
Teal, Bangs are focused towards the left and his hais frames his face.
Eyes //
Left = blue, right = Red-ish pink? with a star.
Body built, skin //
Average height, nice body and fair, healthy skin.
Clothes
//
Accessories //
He has a crown that he wears 24/7, unless he's sleeping. He has gloves on both hands that covers only half his palm
[Smth like this]
and three roses, big-small-medium on his top. His boots are similar to
this
but without the heels and is brown in color.
Personality //
He's a flamboyant young adult? / teenager who tends to attract everyone's attention. (I think it's b'coz of how he's dressed xd) He tends to mess up everything he does and so he needs someone to look after him even at his age. He tries to be all cool, serious and badass but he's a scardy cat at heart. He shrieks like a girl when he sees spiders and he's afraid of sleeping alone in the dark. He's in love with his best friend [insert name here] who's also the one looking after him but he wouldn't admit it, even though he gets all girly and lovey dovey whenever he's with [insert name here]
Likes //
Sweets, his night light, lullabies, the rain, his crown, napping and his childhood friend
Dislikes //
Loud noises, spiders, the dark, chores.
Extra/ref //