This is a basic sketch journal of sorts. Not entirely sure why I'm doing this, I suppose it's more of a form of practice than anything else. However, maybe doing this will help me get out of this nasty rut I've been in for a while, and will allow me to start making some decent progress with what I've been working on.
So, I started destroying my room for my old sketch books, risked running into those disgusting videos like 2girls1cup for internet how-tos and reference, and will now try to keep a log of every time I do some sketch practices.
1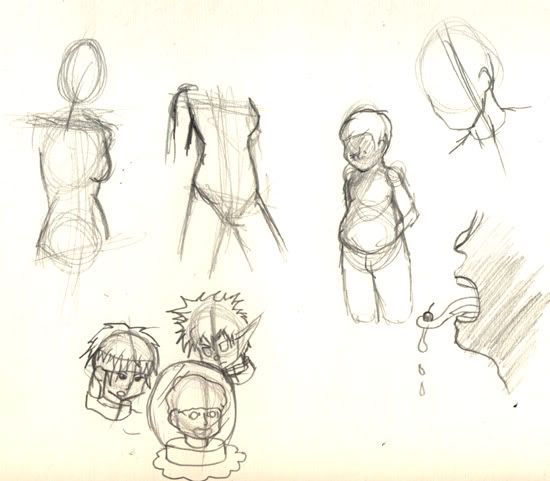 Notes: Hey hey! It's Hy and Wolfram on the bottom left... Looks like they're looking into a crystal ball of some sort.
I really like the face close up on the bottom right, if I added more of the head in the drawing, maybe the neck, and gave it fangs, it might've been a nice finished drawing.
2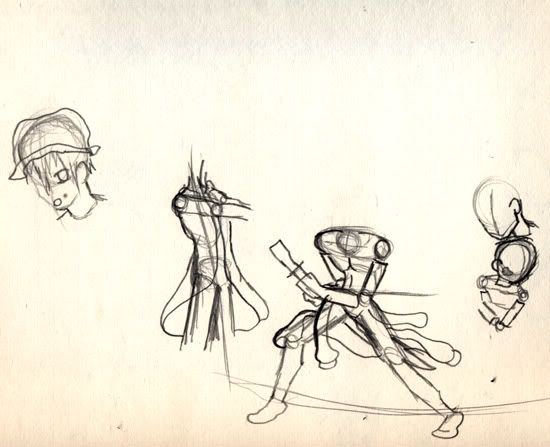 Top left: For anybody who read my story "Sonic Fangs" on fiction press, that picture might remind them a little of the character Orca.
Right Side: Actually, I think this page is pretty much "Sonic Fangs". the rest has a feel to the character Soujiro. LOVE the pose I did on the right, I just couldn't get the danged head right... You can see further right I tried giving the problem area another go.
3
Top: Ehhh... not too fond of this pic... Not because I thought I drawn it badly, honestly, it came out surprisingly well. But it reminds me too much of my highschool days... Hell, the guy in front resembles me kinda... only if it was me, he's waaaaaay to thin...
Middle Right: I kinda like this design. I've been trying to build a character with facial hair for a while, not an easy task. ONly thing I'd change is his eyes, makes him look like a stoner... (But if I ever need to drawn a character that resembles Finn the Dark...)
Rest of the page: Basically some mannequin drawings. Not a big fan of drawing mannequin style, makes characters look blocky in the final product. The top left mannequin was an attempt to draw the cover of a Street Fighter comic cover. Couldn't help it, Sakura's one of my favorite characters.
4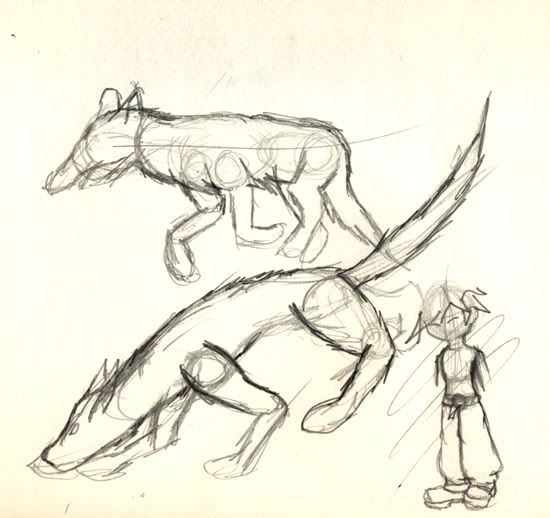 Some attempts at wolves, Bottom was a "just wing it" attempt. Top I used a real pic of a Mexican Wolf as reference. Couldn't get the head right though. The male guy bottom right was an attempt to draw a LaTale character of mine. Failed big time.
5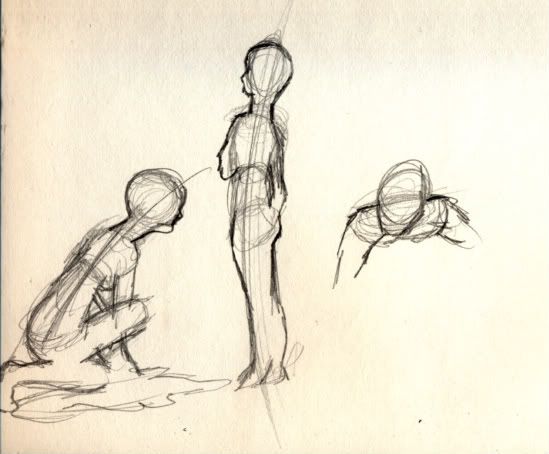 Sketches Using Posemaniacs.com as reference. Aside from the one on the right, I was using the sites "negative space function". I think the far left came out great. I would encourage any artist to check this site out.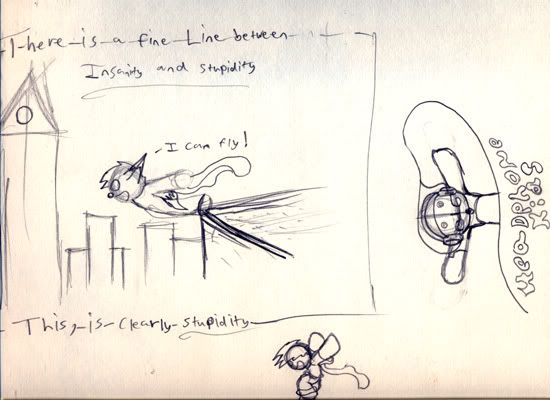 Ah, these were some rough ideas of some Cafepress.com shop items I thought up. I've been thinking about setting up a shop on that site allot lately. The insanity/stupidity sketch would probably be a series, I already got a few ideas. The little guy on the bottom is another attempt at drawing a base idea for the "I can fly!" guy, I like the redone idea better.
To anybody who held interest this long, or at least was nice enough, (or pitied me enough...) to look at and read through all this, I have a special little surprise:
SPECIAL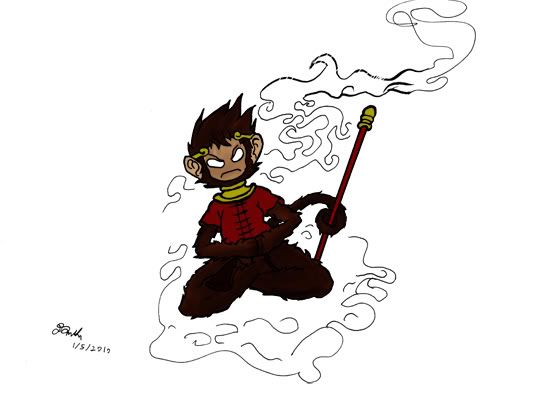 This is the project I've been working on. I've been learning a new way to color and shade my stuff, and the monkey came out fairly well. Problem is the background, I can't get that damn cloud right in color... And I don't want to think about anything else in the background 'til I finish the danged cloud!
So, that's it for now. Any comments n' such, feel free to do so. And if anybody else does a sketch log, tell me! I'd love to see them and give any advice I can!