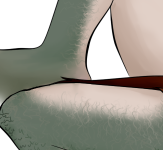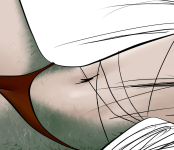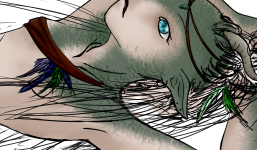 To see the colors of the different sections, click the different sections of her body.
(left - middle - right)
In this one, clicking the middle gives you a full view of her.
Full name:
Tonpopo Ravii (tön-poe-poe, Rah-vee)
Nick name:
Ton (Tön, pronounced like on)
Sex:
Female
Orientation:
Heterosexual
Age:
??
Hair color:
Dark brown.
Eye color:
Ice Blue
Height:
When standing straight, Ton is 6'4
Outfit:
Ton usually wears simple, natural clothing like animal hide, string or rope, feathers, and branches.
Instabilities:
none
Residence:
a forest on the planet Arborea.
Other:
Ton is a species known as Gen Mo'Kai (from Unreal Tournament – click
here
for info about the species) they usually have all green scales but she has beige under her arms, legs and belly. (Use this as color/scale reference but where the light green parts are is where the beige will be on Ton. The Gen Mo'Kai usually have tentacle or dread like tendrils for "hair". As far as Ton goes, she has a few dreads tied on the top of her head but the rest of her hair is straight and long.
Background:
When Ton was a child, she was taught how to be a warrior rather than scavenger. She grew up fighting and now is the leader of her small clan. She takes care of and protects all of them. Her home is in a hidden field of dandelions in the middle of the forest
Personality:
Ton is calm and intuitive. She is interested in new things and new places but can never experience them because she cares more about her clan. She is beautiful and knows it quite well. In knowing this, she presents herself all the time for she, even though she is the leader, has still not found a suitor.
Other Pics: