Name:
Akio
Race:
Human
Age:
18 years old
Height:
6'1"
Eye Color:
Red
Personality/History:
Akio is a bandit that lives on his own. He never relies on others ever since his parents abandoned him when he was 7 so, he survived on his own. Trusting people isn't his thing, he thinks they all want something and that they do nothing but hurt others. Due to this he never smiles, he always looks serious. Until one day he runs into a runaway princess named Emi. After a while of having her follow him around he finally got annoyed of it and let her tag along with him. Little by little he begins to fall in love with her, but does everything he can to hide it because he knows they can't be together since they are from two completely different worlds. There are times when he leans in to kiss Emi, but ends up stopping and just smacks his forehead gently to hers and calls her an idiot, then walks off.
Likes:
* Emi---* Food---* Dogs and Birds---
* Traveling---* Fighting---* Stealing (Since he's a bandit)

Name:
Emi
Race:
Human
Age:
17 years old
Height:
5'6"
Eye Color:
Light Blue
Personality/History:
A typical spunky/outgoing princess that's sick of having to obey everything she's told at her kingdom. Emi lives to be adventurous, but is always kept inside for safety. One day she sneaks out after dark and keeps on running till the kingdom is out of sight. Then came the day she bumped into Akio, she didn't know where else to go so she keeps on following him. Emi was so happy when Akio finally took her in and let her travel with him. She sometimes get mad at him because he never smiles or shows any kind of emotion so she constantly lectures him and smacks him on the arm even though it doesn't do anything. She does realize though when she begins to fall for him and she doesn't know how to show it so she sometimes just turns red and he's confused when he sees that because he has no idea about how she feels.
Likes:
* Akio---* People---* Animals---
* Traveling---* Getting piggyback rides from Akio---* Cute things
( Their Gallery Is In The 2nd Post )
_______________________________________________________________________________________
** These two characters are actually me (evelin7) and my boyfriend (~okyn_2177~),
I just designed the outfits for us so we are technically Avi/OCs at
the same time. **
Name:
Lisa
Age:
19 years old
Height:
4'10" -- Yes I'm that short.
Eye Color:
Brown
Personality:
Sadly very shy and doesn't know how to express herself most of the time. Has a hard time around people for certain reasons. Friendly towards anyone that approaches her and forgives too easily. Is known as accident prone and says sorry all the time. ><
Loves:
Mark
Likes:
*Animals---*Nice/Funny people---*The colors black, purple, and green
*Anime/Manga---*Rice/Noodle---*Ice Cream---*Chocolate
Dislikes:
*MEAT!---*The color pink---*Rude/Annoying people
*Sports---Because I stink at them.
Name:
Mark
Age:
19 years old
Height:
~6'2"
Eye Color:
Blue
Personality:
Easy going and always loves to have fun. He can get along with almost everyone and loves to make people happy. Can be quite shy sometimes though. Known to poke people a lot and also goes around being random towards friends or even people he doesn't know. xD
Loves:
Lisa
Likes:
*Food---*Cats---*The colors green and brown---*Sports
*Hanging out---*Music *Video Games---*Ice Cream
Dislikes:
*Annoying people---*Rice---*Birds---*Television
( Their Gallery Is In The 3rd Post )
_______________________________________________________________________________________
Name: Kiki
Race: Half human & half cat (Neko)
Age: 16 years old
Eye Color: Violet
Personality/History:
She always smiling and outgoing. Her parents were murdered when she was a little girl and was in an accident so she lost her memory. When she was found by Ikuto she was about 5 years old and didn't know anything about her past. Sees Ikuto as her guardian angel and she really does love him, but doesn't know how to say it to him directly. There are times when Kiki falls into a bit of a depression stage because she's upset with her self for not remembering much about her parents or past and wishes she could see them one more time.
Likes:
* Ikuto---* Friends---* Animals (mainly cats)---
* Traveling---* Sweets---* Cute things
Name: Ikuto
Race: Human
Age: 19 years old
Eye Color: Blue
Personality/History:
He's a quiet guy that doesn't smile much, yet can be noisy when left alone with Kiki. Ikuto and his father found Kiki unconscious in the forest and decided to take her in. He lives to protect her ever since he found her. He saw her as a little sister, but as time went by he realized he fell in love with her. Same as Kiki, he can't show it because he's embarrassed. Ikuto is a bit of a tough guy and hates it when people (guys) act too "friendly" towards Kiki.
Likes:
* Kiki---* Friends---* Family---
* Adventures---* Swords---* Ramen
( Their Gallery Is In The 4th Post )
____________________________________________________________________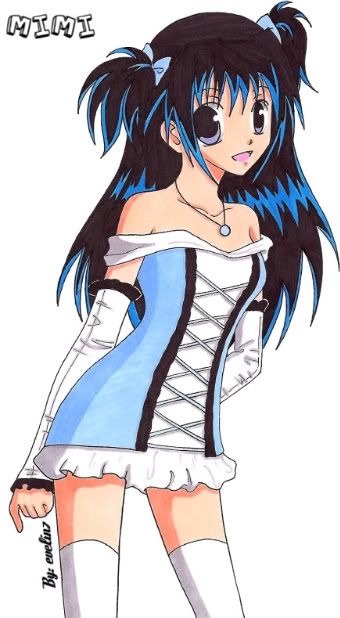 Name:
Mimi
Race:
Human
Age:
16 years old
Height:
5'2"
Eye Color:
Blue-ish Purple
Personality:
She's always loving and happy going.
Always puts others needs ahead of hers,
she's a vegetarian and loves to play with animals.
Also she is not the brightest person you'll meet, she's pretty gullible. Mimi believes in trusting everyone so she doesn't question, which can get her into trouble. She means well though because all she wants to do it help those who need it.
Family:
Sadly she's an orphan, parents were killed
in an accident.
Relationship Status:
Taken; yes we made her love Cloud
Strife, sorry to those who don't like that, but that's
what we wanted.
^_^
~Old Outfit~
***
***
***
***
~New Outfit~
***
***




( Her Gallery Is In The 5th Post )
___________________________________________________________________________________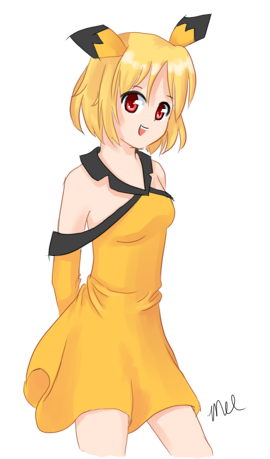 Name:
Sayuri
Age:
9 Years Old
Height:
4 Feet
Eye Color:
Red
Personality:
Innocent little playful kid. She loves playing games and eats sweets all the time. Tends to be very loud at times but she means nothing by it, she just random that way. If she gets scared by something she will run and hide behind either a person nearby or a tall object.

Likes:
* Yellow things---*Cute things--- *Playing---
*Candy---*Napping---

Dislikes:
*Dirt---*Scary things---*Meat
*Silence---
( Her Gallery Is In The 5th Post )