[Drawing By Ms, Shatia Hamilton. Original Character Sketch Commission payed by me.]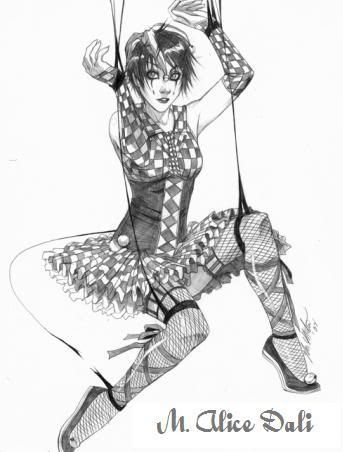 Name:
Alice Marie Dali
Age:
20
Occupation:
Circus Acrobat, Contortionist, Knife Thrower, Amatuer Fire Breather
Gender:
Female
Sexual Orientation:
Heterosexual
Status:
Single
Hair:
Black
Eyes:
Emerald Green
Height:
5'8
Weight:
132LBS
Biography:
She was raised in the Circus and adopted the lifestyle as a Circus Freak. Her parents were well known acrobats and contortionists - performing on the trapese, and putting on shows where they would contort their bodies. The shows were well known for their rounchy content. They taught her from an early age the secrets of these tricks and she learned well following in their footsteps. At the age of 13 she performed alongside her parents in a variety of shows, becoming a crowd favorite.

Throughout the years the fellow circus performers taught her a little bit of each of their special skills - all adopting her as a mentor. She learned fire breathing, dagger throwing, how to tame an animal with the easiest of methods, and even the simple tasks such as juggling and how to entertain the crowd with few magic tricks.

At 18 while on tour. her circus passed through Gaia. She grew fascinated with the occupants during the few weeks they performed there. She wanted to stay, and branch out. And so she did. At 18 she began to live in Gaia performing elaborate tricks on the side for gold. She adopted the stage name M. Alice - The M for Miss.

Now at 20 she has set up a home among unique individuals.
Outfit Colors:
Black and Green
Special Skills:
Distorting of the human body/flexibility, excellent balance, fire breathing, Knife Throwing.
Pet(s):
Baby Black Panther, named Ellie
Throwing Knifes: